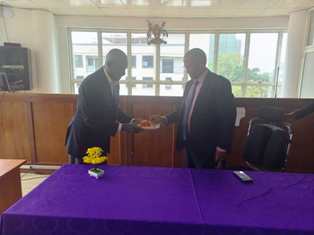 ---
On Wednesday January 18, 2023, the Deputy Chief Justice, Hon. Justice Richard Buteera presided over a do held at the Court of Appeal to formally bid farewell to long-serving librarian, Mr Joseph Arube, who clocked the mandatory retirement age.
The do was attended by Registrars, Magistrates and staff of the Court in honor of Mr Arube for his service of more than 30 years in the Judiciary.
The Deputy Chief Justice commended the Court of Appeal family for organizing the event and seeing him off in such an honorable manner. He said it was an opportunity to say thank you to Mr Arube for his years of service.
Hon. Justice Buteera said he met Mr Arube many years ago as Inspector of Courts when the Supreme Court library was being set up. And it became a success story.
Speaker after speaker commended Mr Arube for being diligent in his service.
The DCJ said this was testament of the need for all to discharge their duties as expected.
The Court's Deputy Registrar, HW Lillian Bucyana said Mr Arube was the longest serving staff at the Court.
"We thought it is good for us to honor him for his service…,"she said.
HW Bucyana commended Mr. Arube for his strictness which has also kept the Library intact. Adding that if Mr. Arube or management allows, he should tutor those to take over him.
HW Dr Alex Mushabe, the Private Legal Secretary to the DCJ thanked Mr Arube for leaving him "half a librarian" because he now knows whereto find any in the Court of Appeal library.
On his part, Mr Arube said it was a privilege to leave the Court of Appeal family with such honor. "I am deeply honored by the presence of Hon. the Deputy Chief Justice; his presence has added value to this event". He also appreciated their worships and the organizers of the event for their thoughtfulness.
He shared how the library started with 300 books which included photocopied bound copies of East Africa Law Reports, East Africa Court of Appeal decisions, Laws of Uganda 1964, Statutes/Decrees 1965-1999 which were all incorporated to produce the laws of Uganda 2000.
Looking back to the contributions of donors such as DANIDA,JLOS, good contribution from Hon. DCJ Emeritus Justice Seith.T. Manyindo, Senior Counsel Pius Kawere (RIP), Hon. Justice Prof. Lillian Tibatemwa, Hon. Justice Musa Ssekaana, Counsel Isaac. C. Lubogo but to mention a few.
He was proud to note that the Court of Appeal library currently has now grown to more than 4,000 reference books.
The staff at the Court commended Mr. Arube for his "service above self". Each shared how he had been a fatherly figure who often guided them.
To crown the event, Mr Arube was given a plaque in recognition of his exemplary service to not only Court of Appeal but the Judiciary as awhole.
Mr Arube is proud to have worked under five Chief Justices including Hon. Justice Samuel Wako Wambuzi.
Share this
---